I have always imagined that Paradise would be a kind of library. Jorge Luis Borges
For Fall 2016, we found ourselves drawn to images of beautiful old libraries. The soaring dark arches of Trinity College Library in Ireland (above) was a standout from the start and drew us to tones of chocolate and umber brown.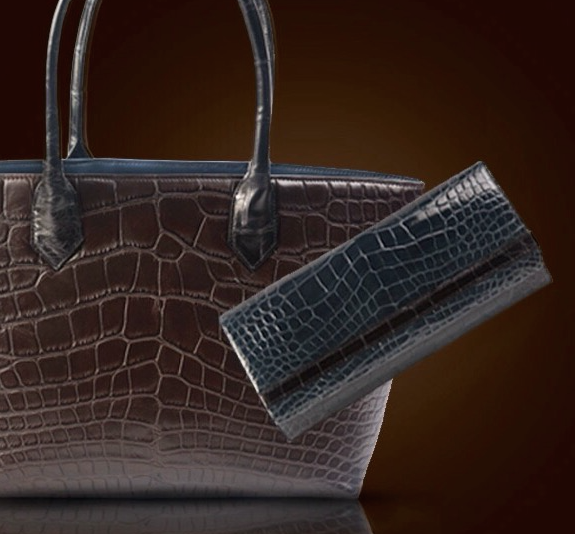 The 18th century gilded stacks of Biblioteca Joanina at the University of Coimbra in Portugal (below) inspired a special python hand finished with gold details by our artisans in Spain.
As I developed ideas for these items, I collected loads of images of intricately carved dark wood bookcases, leather bound volumes with gold printed spines and moonlight streaming through leaded paned windows onto towers of books.
You will see this inspiration throughout the collection. For example, we designed the strap of the Charlotte Hobo to highlight the hand detailed gold of this special leather when it sits on your shoulder, just as the gold leafed title on a leather bound book shines from a distance. With the soft dark texture of intricately molded wood ceilings in mind, we chose a sumptuous ostrich with an unusual suede finish. This super soft suede ostrich, which we used for our Fall '16 ostrich Madison Shopper, Charlotte Hobo and Falling Water Satchel, fades from graphite to gray to black depending on how the light reflects on its highly textured surface.
It was lot of fun collaborating with our leather artisans and craftspeople to bring to life this vision. And the process brought an unexpected added benefit : I began to revisit the joy I've experienced over long quiet hours absorbed in books and to connect my design process viscerally to those memories.
As we move into the shorter, darker days of fall, I plan to spend at least a little time curled up with a book in one of the beautiful libraries that bless our world. I hope Anne Sylvain's Fall 2016 Collection and some of the images here entice you to do a little of the same.
Happy Fall and Happy Reading!
Patricia Raskin, Founder, Creative Director, ANNE SYLVAIN